LETTERHEAD IN THE 1950's
Clark Packaging has a bag division - called Burstein Bag - that is 3rd generation.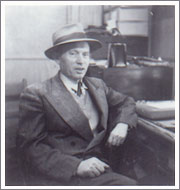 SAMUEL BURSTEIN
Burstein Bag Company was started by our grandfather Samuel Burstein in 1929. The new undertaking began as used Jute and Cotton business and originally operated out of a small 3 room storefront shop on Chestnut Street in an area close to China Town in downtown Toronto.
After riding a bicycle to and from work for many years Samuel was finally able to purchase a used pick up truck and was therefore able to pick up empty jute and cotton bags at bakeries, chocolate and beverage factories around the city.
In 1928 our father Harry was born - the second generation in the bag business.
During the 1930s there were approximately a dozen bag dealers in Toronto and brisk trading was conducted among the dealers.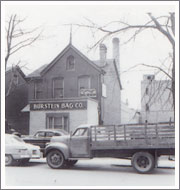 1940's SIMCOE STREET LOCATION
As volume increased in the early 1940s, Samuel decided more space was required and he was able to acquire a small house on Simcoe Street in downtown Toronto. An old vacuum system was installed to clean the flour and grain sacks properly and a hand operated baler was put in place. Bales of bags were lifted by using muscle power.
In 1944, at the age of 16 Harry began help his dad full time - with the purchasing, selling, sorting as well as picking up and delivering the empty sacks. The second generation in the bag business was underway.
After a few additions were made there was a move made to a more suitable facility in 1952. A 6,000 sq. ft. building was purchased on Dundas Street in Toronto. Also acquired were a lift truck, a printing press and an electric baler.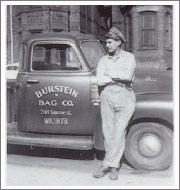 HARRY BURSTEIN
In 1967 a further expansion was necessary, therefore a move was made to a new 17,000 sq. ft. rented premises with truck level doors. At this time the product line included Bales of Burlap, Multiwall Paper, Polypropylene, Potato, Peanut, Coffee, Carrot and Onion Mesh Bags.
In 1971, Samuel Burstein passed away. By this time Harry had become involved in other ventures, including an expanding plastics business, but he continued to operate the bag business as well.
There were further moves. In 1978 Burstein Bag moved into a much larger plant near Jane & Lawrence in Toronto and then to a 220,000 sq. ft. facility (which also housed Harry's plastics business) in Brampton in 1982.
Although all of Harry's children, which include five sons and a daughter worked in the bag business mainly during summer breaks but it wasn't until the mid-eighties that the third generation began getting involved full time. Sonny and Mory joined in 1985. Jay joined in 1987.
While working in the bag business Sonny began to trade in new & used corrugated boxes. As sales continued to increase, Sonny and Mory decided to start a box business under the name Clark Packaging in 1987.
In 1993 Burstein Bag & Clark Packaging moved to the Airport Road & Williams Parkway area in Brampton.
In 1997 Burstein Bag Company merged with Clark Packaging as a division of Clark. At the end of '98 Clark Packaging moved into a newly built facility near Airport Road & Highway which it currently occupies.
Home | History | Products | Boxes Available | Location | Request a Quote | Contact Us